Last night (21 March) Family Life HQ took a journey to the bottom of the ocean – well, a journey to the SSE Hydro – to see Blue Planet II Live in Concert.
CONCERT
Enchanting clips from the hit BBC TV series were accompanied by the City of Prague Orchestra, conducted by Matthew Freeman.
The score for the programme was written by Jacob Shea, David Fleming and Hans Zimmer, the composer of award winning scores including Gladiator, Inception and The Lion King.
Audience members were delighted by clips of crabs narrowly avoiding their death at the hands of a particularly slimy eel, puffins bringing home food for their chicks, and bird-eating fish.
The only minor disappointment, is the lack of Sir David Attenborough, the face, and heart and soul of Blue Planet, with his soothing voice, and interesting facts.
ENVIRONMENT
He does make one appearance, to talk about the effects of humans of climate change, urging the audience to consider their contribution to global warming. It's a poignant reminder of the reason behind the programme: to raise awareness of the damage we're doing to our seas, and encourage the audience to take responsibility.
The environmentally-conscious theme runs throughout, with facts about single use plastic, including bottles, straws, and sporks being broadcast during the interval.
Possibly the most stark reminder, and the most poignant moment of the show, is when a mother walrus and her pup dramatically escape the wrath of a hungry polar bear. Searching the arctic seas for a place to rest, but due to the ever-melting ice, they struggle.
Cast out by other walruses, there is no room for them on the floating iceberg, and so they must keep swimming – for what seems like an eternity to an enrapt audience – until they eventually find a safe place for a cuddle.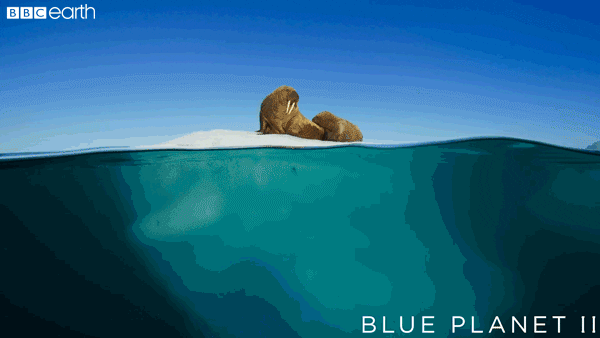 MUSIC
It's not until you're faced with an orchestra in its entirety, that you realise how much music impacts the overall mood.
Contributing to the suspense, the lightheartedness, the awe and the drama, it simply wouldn't be the same without the enormous efforts of the orchestra, who hit every note on every beat, and never miss a step.
If you get a chance to see Blue Planet II live on the remainder of the tour, we'd highly recommend it. Immerse yourself in the sea life, and learn more about what our little planet has to offer; and, what is left to be explored.
**Cover image credit to Blue Planet II Live in Concert**
Are you following Family Life on Twitter and Instagram? Make sure you do for all the latest info.