At some point or another we will have all had a brief brush with the law. From knowing someone who is a police officer to giving a statement or getting that strange feeling of anxiety when you see a copper on the street – despite not having actually done anything wrong.
For this little lot, however, they had an encounter with the law for some of the strangest reasons. Ghosts, sausage rolls and spiders make up our list of weird reasons people have actually been arrested.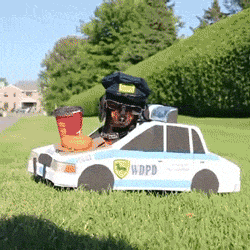 Pretending to be a ghost
One gentleman from Portsmouth was arrested after he pretended to be a ghost… in a cemetery. You couldn't make this up. Anthony Stallard had been drinking before he went to the cemetery to shout, "woo" at mourners. No surprise, he was arrested promptly after.
Feeding a police horse sausage rolls
This little gem happened in Glasgow – obviously. Francis Kelly faced charges of breach of the peace after he fed a police horse a sausage roll. His reasoning behind the incident was he thought the horse looked peckish. He's a good Samaritan surely.
Breaking INTO jail
We're used to people trying to break out, but never break in. In Colorado Monique Deshawn Armstrong was arrested after she managed to get past the razor wire fence surrounding Mesa County jail. The break in attempt was to demand her brother's release – didn't quite work out that well.
Hostage spider
Not one we can all get behind. Bryan Paul Smith from Kansas was sentenced to four and a half years in prison for holding his neighbours' spider hostage. Seriously? It's not exactly a good cuddle partner. Smith was originally asked to look after the spider but decided he wanted to keep it and threatened to shoot his neighbour if he didn't get it back.
Bad mugshot
As if being in a police station once for a mugshot wasn't bad enough, Tonya Ann Fowler was further arrested after she phoned 911 to complain about her previous mugshot. No Photoshop available in prison apparently.