We're not sure if you've noticed it yet but today is – dun dun DUN – Friday the 13th. Avoid the path of all black cats, don't step on a crack – just stay indoors and lock everything, because this is a day of bad luck. Striking fear in even the bravest people there seems to be an uneasy combination between Friday and the number 13.
Superstition does not stop us from hunting out all the facts. We bring you some truth behind this dreaded day… Hopefully our computers don't crash.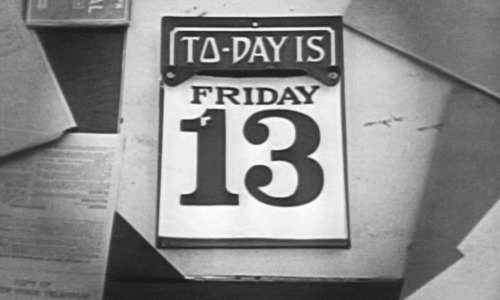 Fear
There's a name for everything these days including the fear of Friday the 13th. That fear is called paraskevidekatriaphobia. Try saying that with a drink in you.
Religion
The superstition that 13 is an unlucky number comes from the Bible. It is believed that Judas was the 13th guest to sit down at the Last Supper and, well, we all know how that friendship ended. Awkward.
Loki
That pesky brother of Thor is getting in on the action too – in Norse mythology Loki ruined a dinner party of the gods. What number guest was Loki? You guest it, lucky 13! And he maybe caused the world to be plunged into darkness. The real lesson here is to be more selective with dinner guests. And maybe limit your numbers.
Deadly
Back in the days of hanging, Britain would hang the people condemned to death on a Friday. From then, Fridays were known as Hangman's Day.
Good Friday
This is the only Friday that skips the bad ju-ju as it was the day of Jesus Christ's crucifixion. People born on Good Friday are also thought to be lucky.
Flying
Looking for a cheap holiday? Friday the 13th is the best time to get a bargain as the cost of air travel falls on the unlucky day, all thanks to superstition. We wouldn't want to risk it, but you do you.
Hollywood
The bright lights of Hollywood were brought to life on Friday 13 July 1923, when the Hollywood sign was first unveiled. It originally read Hollywoodland and was built to advertise a housing development.
Birthday
Famous faces born on Friday 13 include Alfred Hitchcock, Fidel Castro and Margaret Thatcher. Well… they weren't all that great were they…?
Rapping
One of the most famous rappers of the 90s, Tupac Shakur – also known as 2Pac – was shot and killed on Friday 13 September 1996. His killer has never been brought to justice. Spooky or maybe just a coincidence.
Lucky 13
For tattoo artists, the number 13 is very lucky and is a great day for tattoo fans to go to salons and get certain tattoos costing £13. The number 13 has some cultural beliefs attached to it including fertility and prosperity.