We have been waiting with baited breath for the return of the most British television show ever made, The Great British Bake Off. The drama, sheer drama, of the show leaving BBC 1, Mel and Sue and everyone's gran, Mary Berry for the scandalous Channel 4 left us with an cherry bakewell shaped void. 🍰
Breathe a sigh of relief though – GBBO is back on Tuesday (29 August) and critics are deeming it a success. Good job, there would be carnage if not.
To celebrate, we found out all the juicy secrets and need-to-know facts about the show. If you end up with a soggy bottom, just deliver one of these little gems and avoid another Custardgate.
Hats off to Anna Beattie who created GBBO after realising that the drama of village fete baking competitions could work on TV. A star was born.
Ever wanted to apply? Bakers must fill out a seven-page application from. This looks at their personalities and has questions about any past mishaps and successes in the kitchen.
Then there's a 45-minute phone call with a researcher. Here bakers are asked to talk through several basic recipes.
Still more hoops to jump through! Applicants are then asked to bring two bakes to an audition in London and are interviewed by a producer before having a screen test.
Passing that stage will see potential bakers go for another audition in front of Paul and Mary (now to Prue) to complete a technical challenge. Then they will be interviewed by a psychologist to ensure they can handle the pressure of filming. Intense.
Finalists are told what the challenges will be. From here they have to submit their ideas to the show's producers to get them approved.
Filming takes up to 16 hours a day and only takes place on the weekend, meaning contestants can continue working during the week. They must be shattered.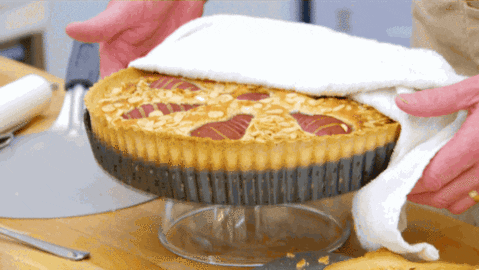 Signature and technical challenges are filmed on Saturdays and the showstopper on Sunday. Worse ways to spend a weekend.
A food researcher makes sure all the technical challenges are achievable. There goes the air of mystery.
Bakers use between 12 and 20 ingredients per bake. Mmm, cake.
There is a runner positioned at the closest large supermarket every morning of baking to grab any last-minute ingredients the bakers might need. Stressful.
What happens to all the left over cake? Well the bakers and the crew get to tuck in. After that any extras are placed in baskets for the bakers to take back to their hotel rooms.
Filming over ten weeks means friendships are made. Quite often the bakers will go out for dinner and drinks after filming. Too cute.
Keeping it sharp – the knives are replaced every year.
Back when Mel and Sue were in charge (it's still a bit raw), Sue would keep in contact with the contestants via email. What a lady.
A home economist is employed to do the dishes. Imagine cleaning that lot.
Forget a dishwasher, it would be too noisy during filming.
Ovens can be temperamental. Our chocolate brownies are a testament to that. GBBO has it all thought through; a technical team bakes a Victoria sponge in each oven before filming. Just to make sure they all work properly.
For the BBC 1 show, Bristol-based Tom Hovey was the show's illustrator. Tom provided the sketches of all the food and drink for the show with a two-week deadline.
'Tubby goth' Noel Fielding will be part of the presenting duo in the revamped GBBO with Sandi Toksvig. He took the job after his pal, Kasabian's Serge Pizzorno told him it would be great. Not long to go until we find out if this was a good decision.
The Great British Bake Off returns to Channel 4, Tuesday 29 August