If you've not yet heard the wonderful news, Friends has arrived on Netflix. The streaming site has uploaded seasons one to ten of the hit show and everyone is really chuffed about this. No more ad breaks during a Friends binge. To celebrate we bring you interesting facts about the most popular American sitcom of all time.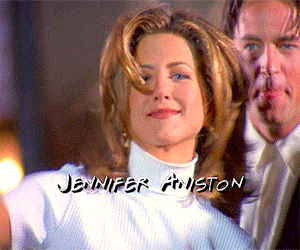 Everyone loves Joey and Chandler's big white dog, apart from Monica, but did you know it actually belonged to Jennifer Aniston. A friend gave it to the star as a good luck gift when she was cast in the show.
Despite it's popularity there were times where Friends wasn't on the highest budget. 'The One Where No One's Ready' takes place entirely in Monica's apartment because the show didn't have enough money for guest stars or additional sets.
Similarly, the cast didn't have high pay cheques. All six of the main cast members took home $22,000 per episode. In 1997 the cast came together to negotiate a salary increase of $100,000 per episode. By the final season the cast each got $1 million per episode.
Ross and Rachel's romance was dominant throughout the ten years the show was on our screens. However, they weren't originally meant to be the central romance but their storyline was developed due to their natural chemistry.
Phoebe had some interesting storylines – including carrying her brothers triplets. This storyline was introduced because Lisa Kudrow was pregnant in real life.
Giovanni Ribisi who plays Phoebe's brother, Frank made a cameo in the earlier episodes as a boy who accidentally threw a condom into Phoebe's guitar case.
And who can forget Phoebe's twin Ursula? Did you know that Lisa Kudrow had been guest starring in another tv series, Mad About You, as Ursula Buffay for two years before Friends started. Writers decided to make Phoebe a twin to crossover the two shows. Clever cookies.
Despite her generosity to her family none of Phoebe's relatives attended her wedding to Mike. Not even the triplets she gave birth to!
Before the show's pilot aired the cast were taken for dinner at Caesar's Palace in Las Vegas to enjoy their last shot at anonymity. Going full circle the cast returned to the same place to shoot Ross and Rachel's drunken wedding.
Out of the six main characters only Monica and Phoebe have never kissed. From relationships and what if episodes this is the only pairing that has never locked lips.